Welcome to our blog! I'm Average Joe Cyclist, and I love electric bikes! I have written a book about how to choose the best electric bike. This Electric Bikes Blog features product reviews, news, and advice. I also have a blog about all aspects of cycling – my Average Joe Cyclist Blog.
Hi! I'm Maggie (aka Mrs. Average Joe Cyclist). Together Joe and I have done a lot of cycling, and Joe has passed on his love of electric bikes to me. I love my electric bike, and I share my passion for electric bikes on this blog.
We have been using electric bikes for more than ten years now (as well as regular bikes). We both love electric bikes for so many reasons!
We are proud to say that we were named one of the Top Ten electric bike blogs in the world!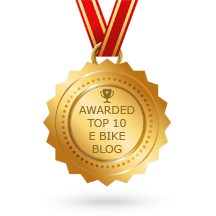 As gas prices and obesity skyrocket, more and more people are looking for healthy, affordable alternatives for their transport needs – and many of them are seeing the exciting potential of electric bikes. Electric bikes make cycling possible for average people – not just the lean, young, and fit minority. As a result, they offer almost everyone a way to travel without gas and get fit at the same time – at a cost that is much, much cheaper than cars. No wonder the popularity of electric bikes is soaring!
In 2010, 27 million electric bikes were sold; by 2011, that number had grown to 30 million. Today, electric bikes are the most successful mass-produced electric vehicles in the world.
It is predicted that by 2025, sales of electric bikes will reach 90 million per year – so if you're interested in buying an electric bike, you are not alone.
There are now so many good electric bikes available that almost anyone can be a cyclist. We use our electric bikes all the time, cycling to places we could never reach on regular bikes. We routinely pass people half our age as we pedal uphill!
Electric bikes blend muscle and machine into a better, faster, stronger you – and isn't that what we all want?
Electric bikes get you places far faster than a regular bike, with less sweat. For example, most Americans live less than five miles from their place of work. On an electric bike, zipping right by the traffic jams, this distance can be covered in 20 to 30 minutes. When traffic is heavy, electric bike commuting is often faster than on a regular bike or in a car. And the bonus is that electric bikes also make you fitter:
Research has shown that the average person who buys an electric bike rides more and gets fitter than the average person who buys a regular bike.
This is because people who buy electric bikes actually use them to get around. Hills and distance are not a deterrent when your electric bike makes you four times stronger than you usually are. It's like being the Incredible Hulk, only without the rage, greenness and mass destruction. And you can get your exercise during the dead time you previously wasted on commuting by car or transit.
We are passionate about electric bikes because they make cycling available to almost everyone – including those of us who are past 50, or have bad knees, or weak hearts, or who are carrying an extra 5 or 50 or 150 pounds. We personally know a man who is a heart attack survivor and a cyclist – he continues to do cycle tours after four heart attacks, using an electric bike combined with a heart rate monitor to make sure he does not elevate his heart rate into his danger zone.
Electric bikes help everyone to cycle, so there are more bicycles and fewer cars. And the more cyclists there are, the safer it is to cycle: motorists are more likely to notice and respect cyclists when their numbers are greater. That explains why far fewer cyclists are killed in Europe than in North America, even though the number of cyclists in Europe is far greater.
There are some cycling purists who accuse cyclists on electric bikes of "cheating," but we believe they should rather feel grateful that electric cyclists are helping to keep all cyclists safer, simply by swelling the numbers. Also, the more cyclists there are, the more the authorities are compelled to build safe cycling routes for us (as is currently happening in London).
We also love electric bikes because we truly believe they are a move in the direction of saving our beloved planet for the next generation; we rejoice every time we see someone out shopping on an electric bike, instead of burning up the ozone with an unnecessary SUV. We've been using electric bikes for more than a decade now, and we have the satisfaction of knowing that we have massively decreased our contribution to the destruction of the planet that our children and grandchildren will inherit.
Electric bikes provide the best of all worlds: you get to exercise; you get to have fun and feel like a super hero; you can travel efficiently, cheaply and quickly (even if your commute is long or has giant hills); and almost everyone can use them, as they come in regular bikes, recumbent and trikes (three-wheeled cycles).
Electric bikes make cycling possible for almost everyone, and that's a beautiful thing.
Please support our blog:
We would appreciate it very much if you would SHARE our posts others (using the Share buttons) or LIKE our Facebook page. If you really want to show your appreciation, please consider clicking on one of the Amazon links
before buying from Amazon; or clicking on any of the other affiliate links on this page. Small commissions help pay for our time. Or BEST OF ALL – just SUBSCRIBE to our blog. You will get a FREE DOWNLOAD of my book, How to Buy the Best Electric Bike, plus free weekly updates about our posts. Thanks in advance – reader support keeps us going and makes it all worthwhile!
(Visited 1,992 times, 1 visits today)