We are very proud and happy to announce that our Electric Bikes Blog has made it to a select list of the Top Ten electric bike blogs in the world!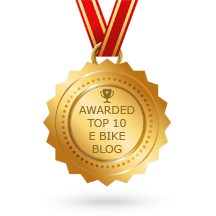 The list includes many great blogs, so if you want to read some great ebike blogs, check out the list of the Top 10 ebike blogs!
Did you like this post or find it useful? If so, please support us and our blog:


Please consider clicking through to one of our reputable affiliates for your online shopping needs. We are proudly affiliated with Amazon, which sells pretty much everything except puppies - and has outstanding, free return policies. When you buy from our affiliates we make a small commission, and this is the only way we earn some income for the many hours of work we put into our reviews and posts. Plus, it costs you nothing at all - a real win/win situation!

Shop at Amazon in the USA:

Shop at Amazon in Canada:

Shop at Amazon in the UK:

Want to read more? Check out our Start Here! page, which has handy links to our Categories and to our all-time Most Popular Posts.
(Visited 644 times, 1 visits today)